---
Venue
Facultad de Letras
Paseo de la Universidad, 5
01006 Vitoria-Gasteiz
The venue is 5-10 minutes walk from the centre of Vitoria.
Getting to Vitoria
Vitoria has reasonably good train connections, including a sleeper service from Paris. For other trains you can check the RENFE website.
The nearest airport with international connections is Bilbao, which is about 1.5 hours away by public transport. Here is a list of airlines flying into Bilbao.
To reach Vitoria-Gasteiz from Bilbao airport, you can catch a bus from the one and only bus stop just outside arrivals. Just stay on the bus until the final stop (Termibus, the Bilbao bus terminal). Buses run every 15-20 minutes and the journey takes about 20-25 minutes. At the Bilbao bus terminal, take a bus to Vitoria run by the company La Union. You need to purchase a ticket (about 6 euros) before boarding from the La Union ticket window at the bus station. The bus stop is just behind the ticket office. The latest timetable is available, but please check their website for updates. Buses run quite frequently with the final departure at 22.00. Try to choose a bus from the 1st column ("autopista" = motorway) rather than the second ("pueblos" = villages) unless you fancy a longer and more scenic ride. The autopista route is scenic enough, passing as it does through the Gorbeia National Park. The journey takes about an hour. There are a number of stops in Vitoria and the closest one to each hotel is noted below. See the map for the location of the bus station.
Accommodation options
A convenient and cheap-but-good option is the Hotel Dato (E on the map), at around 35 euros. It doesn't do breakfast but is surrounded by cafes all of which have great breakfast deals (coffee, fresh juice and savoury/sweet snack) for around 3 euros. The Casablanca 3 on Calle Dato is highly-recommended and just 30 seconds walk away.
Slightly more expensive (57 euros, including breakfast) and equally convenient is Hotel Almoneda (D).
Both Dato and Almoneda are about 5 minutes on foot to the venue (Facultad de Letras) and 2 minutes to the medieval centre of Vitoria.
Also close and slightly more up-market are the NH Canciller Ayala (C) and Silken Ciudad de Vitoria.
For the tightest of budgets, we can arrange accommodation in shared rooms in the Hostal Carlos Abaitua. This does not have online booking so contact us for further information.
Map of Vitoria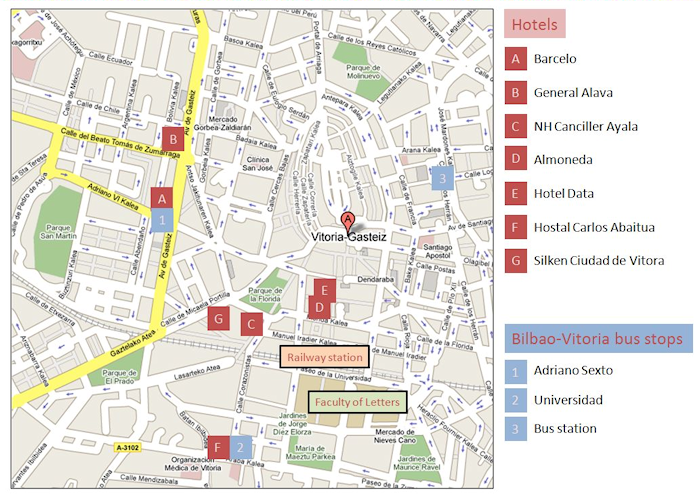 About Vitoria-Gasteiz
Vitoria-Gasteiz is the capital of the Alava province in the Spanish Basque Country. The centre is relatively small and easy to get around on foot. Check out the tourist information and wikipedia entry, (or look at the wikipedia entry in Spanish for more photos).
see larger map
---
Last updated: by Mark Huckvale